design elements
Invitation and Program Options and Additions
All programs include layout/design, a standard paper choice, printing in black ink and come fully assembled. To completely customize your program, choose from: standard program paper choices, vellum choices, standard cardstock choices, special order cardstock choices, ribbons, ink colors, typestyles, graphics, embellishments
If you don't see an element you are looking for please ask, we are happy to try new designs and will do our best to find that special addition to make your piece unique
Standard Program Paper Choices
Parchment & Linen — these standard papers are included in our program pricing.
Parchment Paper and Cardstock Choices
Domtar Skytone is the industry's leading imitation parchment sheet with an authentic, cloud-like appearance that blends with printed imagery to create a prestigious, old-world appearance. The surface is engineered for compatibility with a variety of printing methods to allow pre-printing and customization of certificates and documents.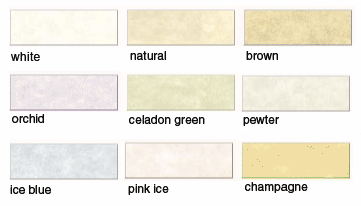 Linen Finish Papers and Cardstocks
Howard Linen is a recycled paper with an attractive linen finish that is the industry standard for performance and appeal.

solar white linen

ecru linen

ivory linen

antique grey linen

powder blue linen
Additional papers including:
themed preprinted papers (i.e. luau, renassaince, hearts, western, etc)
photographic "wedding" themed bulletins
Anna Griffin papers and vellums
handmade and botanical papers
felt papers, and deckled edges
and many more, as well as combinations are available, please contact us for pricing and samples if you have something special in mind.
Scanned photographs are also available at an additional cost of $0.25 per program and a $10 setup fee
* Please note the white parchment paper is not pure or bright white - it is slightly off white, for pure bright white please see the white linen.
Cardstock Choices
80lb or 65lb Cardstock is standard for fan programs.
You can choose from our Standard colors or Special Orders colors:

You can pick your choice of standard matte cardstock colors for your fan program layers.
Standard Programs:
Cardstock can be added to any of our standard programs for $.60 per program.
Metallic papers are $.80 additional per program.
Fan Programs:
Metallic papers are available to add to 2 "petals" of the fan program for an $.80 additional per program, or all 5 "petals" for $2.00 additional per program.
Vellum & Pre-Printed Papers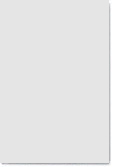 "clear" vellum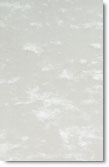 "clouds" vellum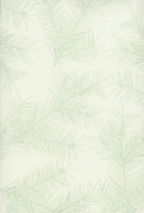 pre-printed "palm"
cardstock
Vellum insert pages/covers and pre-printed papers and cardstocks are available to add to any program for $0.80 per program
Colored vellums are available for $1.00 per program
Specialty vellums such as the Anna Griffin collection or other printed vellums are available for $1.80 per program
Ribbons and Binding Options
Some of our programs come standard with a ribbon accent or topper included.
You can also choose to add a Satin or Sheer Organza Ribbon to any of our other programs for $0.50 each.
Ribbon Spools are also available for purchase to coordinate with your other event elements. You can pick form our standard colors and styles above, or view our Midori Ribbon line, or contact us for special requests.
Ink Colors Options
Flat Ink Colors
All programs come standard with Flat Black ink. Colored ink can be added to any design for $0.50 each program.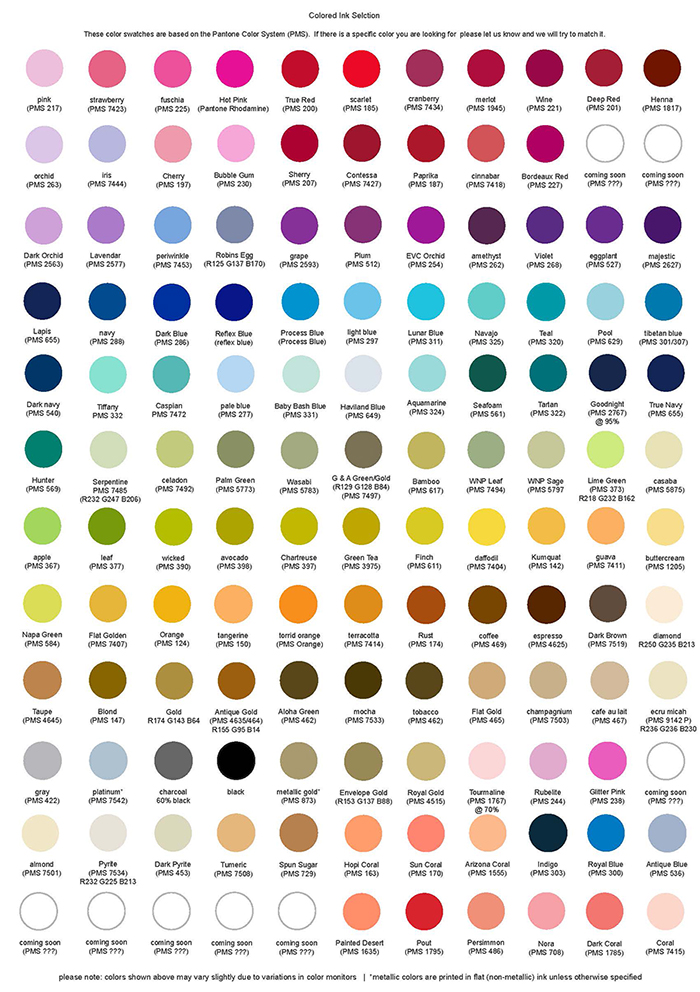 Thermography (raised) Ink Colors
Thermography ink prices vary according to the project, please contact us for a quote.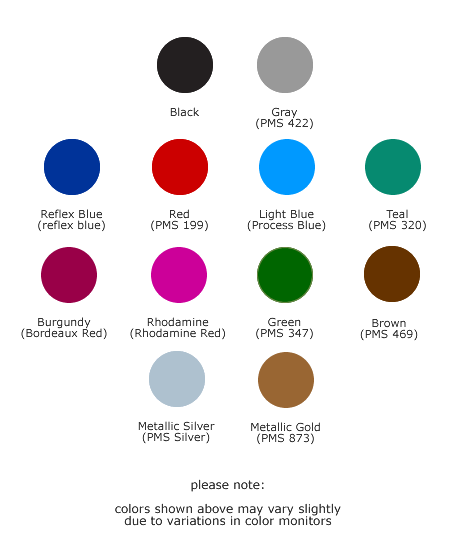 Standard Colors are shown, PMS colors are available for a extra fee.
Embellishments


Charms, Rhinestones and other accents are also available upon request, please contact us for more information.