TEST Envelopments® is a Mix and Match Design Line - cardstock, papers, pockets and parts for custom invitations and announcements that are built using some basic stadard pieces shown in the diagram below: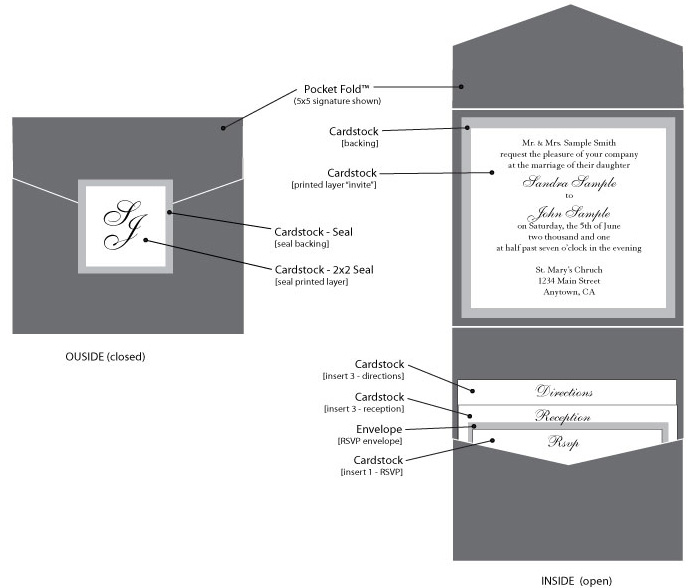 Any invitation can be changed to meet your needs. For example YOU decide:
to create YOUR fully custom design.
If you get overwhelmed just give us a call, we will be happy to talk you through the design process.
To get an idea of what can be done, please visit our gallery to see some of our previous work.
Envelopments® line of mix and match papers can be used 3 differeny ways:
DIY (Do-it Yourself)
You purchase just the blank Envelopments® cards to print and assemble yourself
Partial DIY Invitation
We Design & Print...You assemble -
we will ship the printed and cut to size Envelopments® cards for you to mount.
Full Custom Invitation
We Design, Print and Assemble the entire Envelopments® invitation - we can even do the addressing of your guests names - all you need to do is mail!
Don't forget! Cherish Paperie can custom coordinate other matching pieces to create a complete ensemble. View samples of our coordinating sets, including menus,
placecards, programs and thank you cards.
How do I get started?
First, think THEME and COLOR. We suggest taking a look at our gallery page to get and idea of what you like and don't like.
As you get started, think about the look or tone of the event and imagine what style or flavor is desired. You may wish to embrace the season, reflect the location, match the attire or convey the level of formality for an event. Perhaps this will influence the initial decisions about color and pattern combinations. Pick your color scheme. Usually this is one color for the pocketfold and one backing or accept layer, and then the main color of the invitations and inserts.
Next, consider CONTENT and SIZE. Determine the information to be communicated. Response cards and return envelopes, maps, photos and text will help define the shape, size and capacity necessary to contain the communiqué. Pick a size you wold like for your invitation.
Consider the QUANTITY of inserts such as RSVP, Reception and Directions cards you need, as well as the main invitation panel and any backing layers. Then, question final QUANTITY needed. On the guest list, remember to base the count on the number of addresses being mailed to rather than the total number of guests. Also consider ordering overages to compensate for standard loss during the print, assembly and addressing processes.
Now, base the quote on product selection and quantities. You have many options in getting your completed invitation. DIY (do-it-yourself), a partial DIY (we print and you assemble) or a full custom invitation (we do everything from design to completion. Use our Word document to help organize your information. You can email this to us and we will send you a formal quote back within 1-2 days. Or for purchasing the blank stock for a DIY invitation you can order here. You can design your own invitation using the cards you have chosen by purchasing from our shopping cart OR see below to have Cherish Paperie design a invitation for you.
NEW for 2010!
FAVOR CONTAINERS in coordinating colors to match you invitaiton ensembles!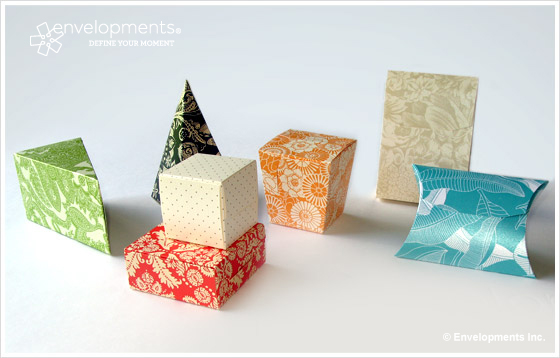 Now you can match your wedding stationery from the first minute in the Save the Date to the last items your guests see and take home - the favor containers. Envelopments has just introduced a fabulous new line of favor containers available in all 170+ colors in the Envelopments cardstock line.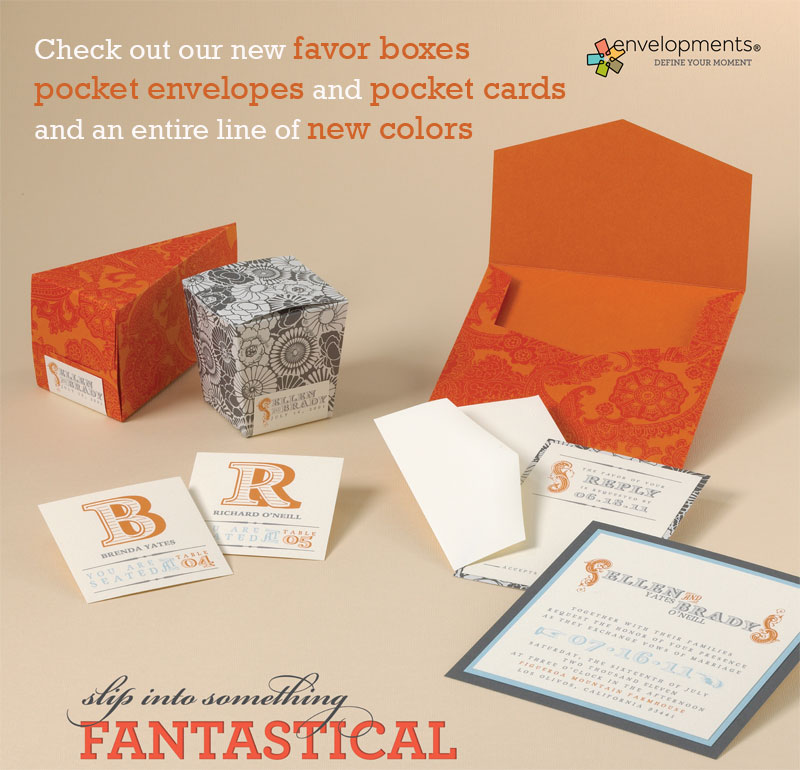 More Questions? Visit our Frequently Asked Questions Page for all the answers!
See our sizes, colors, prices or FAQ's or ordering page for product information.
If you are interested in having Cherish Paperie design your complete invitation, help organize your information by downloading our Request an Estimate or Place an Invitation Order forms.
Envelopments® and the Envelopments Logo are registered trademarks of Envelopments, Inc. All rights reserved